---
I2CChip.com : I2C, SPI, 1Wire Interfacing Made Easy

---
Thousands of low-cost integrated circuits use serial buses: I2CChip talks to them all from your PC

Web Store

I2C Starter Kit $89.95
I2C Starter Kit is the fast, easy way to get up to speed with I2C and the I2C2PC adaptor.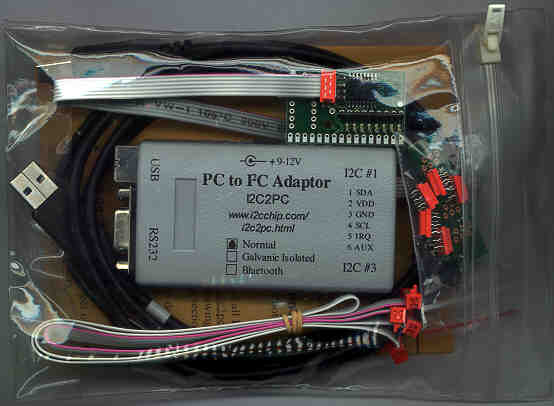 I2C2PC Adaptor
8 Bit I/O port with LED's
I2C Cables & Connectors
USB Cable
Zip Pouch for storage

Both USB and RS232 interfaces. USB for speed. RS232 for distance!
3 Separate I2C Buses
I2C, SPI & Dallas 1-Wire interfaces
Simple ASCII protocol is easy to use with any OS, and any programming language.
Fully self contained, includes on board 5V and 3.3V power supply OR USB powered
Galvanic Isolation for safety - protect your PC from damage
Simple stand-alone functions, power on initialisation of I2C devices without PC present
Watchdog function without PC
Better and more economical
Compact in an attractive enclosure: not a bare-board
BL233 I2C to Serial Interface IC,
DIP & SO

Just the Bare IC to build into your own OEM products. At $3.95 in small quantities, and less in volume, you can build profitable volume products around the BL233.
3 Serial Buses
CMOS and TTL compatible buses, 2.5-5V
All serial buses: I2C, SPI, 1-Wire
Works as simple 8 bit I/O port: Drive LED's and relays directly
Store POWER-ON, WATCHDOG-TIMEOUT and INTERRUPT macros internally: Runs even when the PC doesn't.
Simple ASCII commands: No API's, No DLL's needed. No hidden software costs.
I2C Bus Connectors and Cables
Free Postage for I2C Bus connector and cable orders
All our products use the small reliable Micro-match 6 pin connector. For your convenience we have connectors and built up cables available.
Even if you don't use our adaptors, you can use our well thought out pinout and, compact connector for I2C and SPI bus devices.
Free Software: Talk I2C out-of-the-box
Our free Realterm software talks directly to the I2C-2-PC / BL233. You can just talk write and read directly from any new serial bus IC with no programming at all.
---
Sip Modules: SIP modules as small, simple pcbs with a single row of I/O pins along one edge, and our standard I2C connector. The only pins you need to wire up, are the I/O pins you are using. Everything else is done for you. Because the pins are 0.1" spaced, they are easy to put on proto-boards of all kinds. You can even put standard 0.1" plugs on them.
Modules:
---